Killy (pronounced "Keely", named for French alpine skier Jean-Claude Killy) is Dave's 2nd dog. After training and competing with Tahoe, who doesn't like to be wrong, Killy is definitely a welcome challenge. She has a lot of drive and loves to train and certainly doesn't mind being wrong now and then. She is a very sweet dog, but also very focused. She also has the "preferred earset" (tongue in cheek) as clearly they were never taped or glued.
Killy's puppy name was "Blackie" (courtesy of Janet Dunn and Holly Bourne, owners of Killy's brother Cinch.) Killy is also know as "Whumpus", "Juvie", "Miss Bobbie Sox" and just "BC!". She loves to tug, retrieve, and balance toys on her nose -- especially her Henrietta rubber chicken. Killy's fondness for toys started at an early age with her pink octopus ("stolen" from Tahoe's second litter of puppies). Early games of tug, building into retrieves as a wee lil' one became invaluable as more formal training began.
At the ripe old age of 3 months, Killy attended puppy camp at Say Yes Dog Training outside of Toronto, Canada. She flew in cargo and was a superstar, earning a "What a cool dog!" note written on her crate name tag. At camp she was exposed to all the basics and foundational training from Say Yes. Most importantly, she learned crate manners and her new release word, "Break!" (which people often hear as "Freak!").
As a puppy and adolescent, Killy's biggest challenge was her recall. She was (and still is) sooooo focused on movement and other dogs (especially Aussies.) Her early strengths were how fast she patterned and learned, and adapted to circle work. The fast patterning did get us in trouble with the travel board as her nose touch became more of a nose scoop. She was also a bit "boofy" as a youngster - talking to shadows and things unfamiliar to her. However, over time, the boofs have mostly disappeared with some maturity.
Killy came to work with me quite often for her first few months, hanging out in her crate and getting mini training sessions and walks throughout the day. She loves to train and work. Once her mind has been exercised, she will consider hanging out and snuggling although she can switch back into work mode at the drop of a hat.
In her first trial (New Years weekend AKC at Rancho Murieta,) she quickly learned "the game" within the first couple of runs, picking up more and more speed and confidence in the wide open spaces. As competitions and training have continued, her biggest issue has been the weave poles. She just never learned to collect before getting in them. Over the past 2 years, we have steadily made slow progress with her poles, resulting in more advanced titles. However, AKC Open JWW is our Achilles heel.
For 2007, the weave poles were again our biggest nemesis in attempting to qualify for the USDAA World Championships in Scottsdale. No Grand Prix or Steeplechase Q's. :-( However, she continues to have a rock solid start line and displays wonderful speed and jumping ability. It's just a matter of putting it all together, which should come in time ...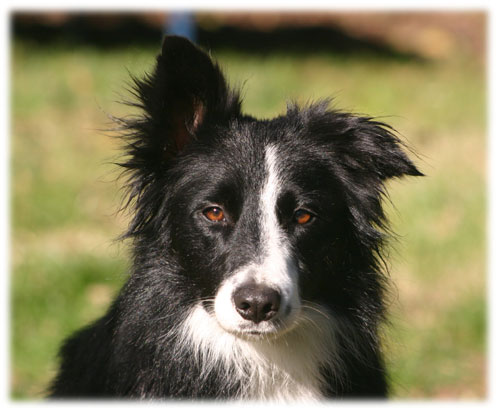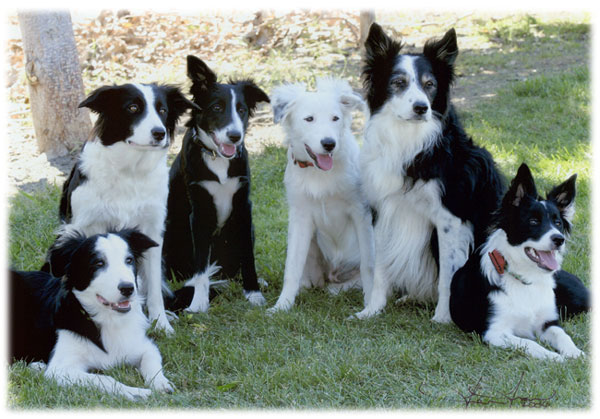 Family Portrait: L to R: Cinch, Fable, Killy, Stuie, Spinner, Rime
Tien Tran Photo 9/04