7/18/98 - 2/25/09
Blue Merle, C/W Australian Shepherd Bitch (spayed 9/04)
18 1/2", 38 lbs
OFA Hips AS-14796E24F-T (Excellent)
OFA Elbows AS-EL442F24-T (Normal)
OFA Thyroid AS-TH65/82F-PI (Normal)
Eyes Cleared Normal/Normal 7/08, CERF AS-4533/2006-96
MDR1 normal/normal
Hereditary Cataracts (HC) Clear
CHIC Certified #15312
AKC and ASCA DNA Profiled

(ASCA CH Private Stoc's Task Force x AKC/ASCA CH Black Rock Exiled CD)
See Tahoe's pedigree
Bred by Storey C Smith, Black Rock Australian Shepherds
Owned by David Grubel and Erika Maurer
Tahoe is Dave's first-ever dog to own and train and she will be a tough act to follow. She is not only a great competitor, but more importantly, she is a wonderful companion. She switches between the extremes of her game face (serious on course and in the breed ring) to her snuffly, snorty grin to much amusement.
She came to us from Storey Smith/Black Rock in New Mexico. Originally co-owned, Storey showed Tahoe to her AKC and ASCA Championships and to multiple Best of Breed wins. Tahoe even made the trip with Storey to New York in 2000 to show at the Westminster Kennel Club show but decided that Madison Square Garden was a bit too chaotic for a young desert girl.

Tahoe started competing in agility in 2000 as well and, after a somewhat rocky start, figured out the game and quickly found herself in Masters by the end of the year. In 2001 after moving to California, she qualified for the USDAA Grand Prix in February at the huge West Valley Dog Sports event, then took time off for her 5/4/01 litter of 7 by Magnum, Ch Private Stoc's Stacked Deck (a co-breeding between Storey Smith/Black Rock and Robyn Powley/Darkwind). She returned to California in July and started training for the Grand Prix. She competed at the Grand Prix in Del Mar as an aerodynamic hairless wonder.

In 2002 she was the #1 ranked dog (all breeds) in the USDAA 22" Top Ten for Snooker, beating many of the top BCs for this honor. She also competed in the Western Regional of the Incredible Dog Challenge that year and was invited to compete in the finals in St. Louis. There she missed a dogwalk contact and a chance at the podium but decided that the crowds and attention weren't all bad. At the ASCA Nationals in Bakersfield she placed well in the competitive 20" Elite classes, winning Elite Jumpers.
She finished her ADCH, NATCH, MX and MXJ in 2003 and won the Bay Team's California Cup and other High in Trial awards along the way. She was #4 in the ASCA Agility Merits as well. At the Long Beach AKC Nationals she was at ease on the carpeted surface and finished 8th in Round 3 (Hybrid Round) in the 20" class.
2004 was the year she finished her ASCA ATCH and came within 1 leg of her USDAA Bronze lifetime achievement award. She qualified for the Grand Prix, Steeplechase and DAM Team finals, and also for the ASCA Agility Finals, all of which she attended. She took the spring off for her final litter by HOF PCH ATCH WTCH 45 Ranch Wind Roper, and returned to competition in July to win the Bay Team's California Cup for the 2nd year in a row. She also won High in Trial at the Quicksilver NADAC/ASCA trial that August, proving that she was happy to be back on course.
At the 2004 ASCA Nationals in Paso Robles, Tahoe competed in Altered Conformation, Obedience, and Agility. She did quite well, winning A-BOS at the FRASC pre-show, and Altered Best of Breed at the Nationals! She finished 9th in the Agility Finals and won Novice A Obedience at the FRASC pre-show. She also won two 20" Elite classes in Agility at Nationals.
You can also check out Tahoe's brags (including photos) from the 2004 ASCA Nationals HERE.
Tahoe's many accomplishments after 2004 are chronicled in our News pages and at some point we'll capture them here as well.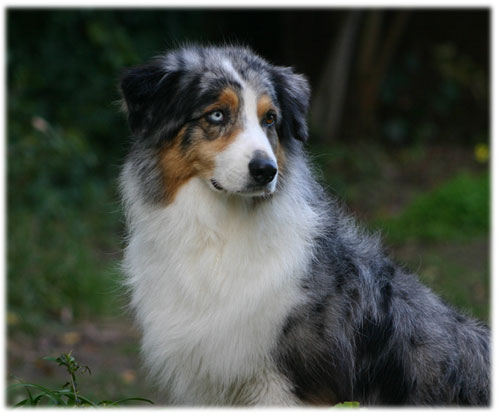 Tahoe at 6 1/2 yrs
Photo by Erika Maurer
February 25, 2009
Today we set Tahoe free from the cancer that had invaded her lungs.
She gave us over 10 great years of companionship, competitive victories, and unquestionable love and loyalty. We are so grateful that we were able to share that time with her as she enriched our lives with her caring nature, her sensibility, and her love of just running full out.
We'll miss her toothy grins and snorts, her gleeful howls, the glint in her eye while flying over a-frames, her joyful parades with the slipper or Frisbee, her presence ("the anvil") on the bed, and her white blaze and clear blue eye staring out the front window. We're sure the mailman won't miss her warning salvos as he attempted to deliver our mail, but we know we will.
After a somewhat rocky start (including a-frame perching and zoomies), she had a great career in agility, recently competing in Scottsdale making the 2008 USDAA PSJ and PGP finals and taking 2nd in the ASCA Veteran Agility Finals in Las Vegas. She enjoyed agility, but most of all she enjoyed running with Dave. Her love of the sport grew through her bond with him, and there are many of us who will miss seeing the two of them take the line to prepare for yet another exhilarating run of daring front crosses, linear accelerator a-frames and now and then even a gratuitous "boof" from Tahoe, especially on rear crosses.
So now she is at rest, joining her canine soul mate, Chase. She will live on in our memories and our hearts, and of course in her kids.
We love you, T, and thank you for all you've given us.
-Dave and Erika