Roper x Tahoe litter born May 10, 2004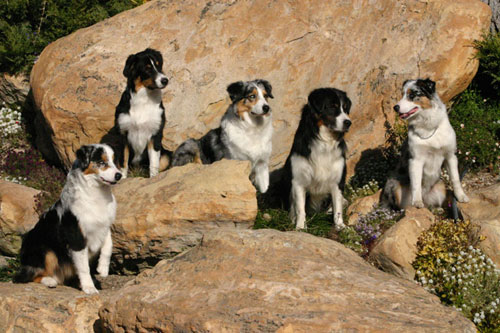 L to R: Pecos, Taiko, Tahoe, Roper, Sandia (not shown: Dude & KD)
Photo taken at the 2004 Paso Robles ASCA Nationals
OFA Excellent, Eyes Cleared, 18 1/2", 38 lbs

ADCH NATCH ATCH MACH AKC/ASCA CH
Black Rock's Imperial Tarn
HT DNA-CP

(CH Private Stoc's Task Force x
AKC/ASCA CH Black Rock Exiled CD)

OFA Good, Eyes Cleared, 20.5", 55 lbs

HOF PCH WTCH ATCH 45 Ranch Wind Roper
PATDs RTDsc CDX AX AXJ CGC DNA-VP

(WTCH Windsong's Falcon DNA-CP x
WTCH The Sting of Twin Oaks DNA-VP)
Pup Info
2 Girls (1 Black Tri, 1 Blue Merle)
3 Boys (2 Black Tris, 1 Blue Merle)
Pedigree for the litter: Pedigree
COI of this cross is 3%
Meet the Pups
Pecos - Slipstream's Ropin' the Wind RN PT NA NAJ NF STDs GS-N JS-N CL1 CL2-H CL2-F DNA-VP
Taiko - ADCH ATCH Slipstream's Imperial Drumbeat VCD2 ASCA CD/AKC CDX ASCA TD/AKC TDX RAE MX MXJ XF GCH RCH SCH-B SACH-B JCH TM-G CL3 EAC NJC TN-N TG-N CGC DNA-VP, 2008 ASCA Agility Finals Champion
Dude - ATCH Slipstream's City Slicker AX AXJ XF AD SS SR OAC NJC DNA-VP
KD - Slipstream's Kate D. Kay OA AXJ DNA-VP
Sandia - ADCH Slipstream Enchantment MX MXJ MXF TM NJC DNA-VP

Litter Pictures - the first 7 weeks
Day 1
Day 13
3 Weeks
4th Week
5th Week - 2 pages
6th Week - 2 pages+
7th Week
Goals
This was our first ever litter. From this cross we are hoping to get structurally sound pups with solid temperaments and a good work ethic. Only time will tell, of course, but so far we are very excited about the potential in this litter.
Looking for an Aussie?
Check out our current Litter page to see what's on the horizon.
Please consider checking with Aussie Rescue -- there are many wonderful dogs looking for homes.
Aussie Rescue and Placement Hotline (ARPH)
Second Time Around Aussie Rescue (STAAR)
Australian Shepherd Rescue Page
North Bay Canine Rescue - our first Aussie, Chase, was a third party assisted adoption dog listed here