ADCH-B ATCH Sunlight's Alpine Expedition
ASCA CD MX MXJ XF
SCh-G JCh-S SACh-G TM-P LAA-Bronze
JS-E-SP CL3 RL1 DNA-VP
"Trek"

Photo by Ann Clayton (May 2006)

DOB: 3/29/03
Black Tri Australian Shepherd Male (neutered), possibly red factored0
20.75 ", 44 lbs
Eyes Cleared 6/05 CERF AS-7645/2005--27, re-checked 7/08, 7/09
AKC DNA Profile #V364536
OFA Hips AS-20845G25M-PI (Good)
OFA Elbows AS-EL1623M25-PI (Normal)
OFA Thyroid AS-TH66/25M-PI (Normal)
CHIC Certified # 27061
MDR1 normal/normal

(HOF PCH WTCH ATCH 45 Ranch Wind Roper PATDs RTDsc CDX AX AXJ CGC DNA-VP
x HOF VCH ATCH AKC/ASCA CH Moonlights Alpine Lace ATDsd OTDc NAJ DNA-CP)

Bred by Kenneth and Marilee Mansir, Sunlight Australian Shepherds
Owned by David Grubel and Erika Maurer

When I heard that Marilee had bred Lacey to Roper, I was very interested in the pups resulting from a cross of two exceptional MVA competitors. I contacted Marilee and scheduled a time to come down to see the litter. From the pictures posted on the web, I was immediately drawn to the little black boy with the thin blaze. But when I met the litter that pup, though extremely endearing and focused, just wasn't the energy dynamo that some of his littermates were. Kenny and Marilee told me that they originally were concerned about putting 'Lefty' in an agility home but when he later turned on, they realized he was the perfect fit for me. Though a bit skeptical because I hadn't yet "seen it", I believed them. And two weeks later, when I came down to take my pup home, I brought home that little black boy with the thin blaze.

After an eventful drive up I-5, Trek arrived in the Bay Area in true monkey-boy style - he immediately rushed into our home and humped Chase's large warthog toy. He was a whirling dervish from the start, and has finally learned how to control all of that energy. Kenny and Marilee still ask, "Does he have enough *energy* for ya?!?!?" and I have to laugh. He has energy for 3 dogs ... I just need to learn to keep up and to channel it!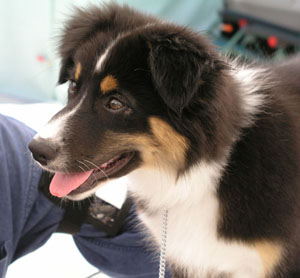 He showed twice in the puppy conformation classes, first at 4 1/2 months in Cayucos (pic above) where he was out of control in the ring, even literally at one point as he broke free from his handler (patient Dave) to chase the other puppy in the ring. He took 2nd and couldn't have cared less. His next time out, in Carson City, with another month under his belt, he took BOSp. He still was quite a challenge to handle but at least managed to remain under leash control the entire time. Progress!
Next Trek started training for agility and obedience. We started trialing probably a bit too early as while I had taken my time with him, trying to build a proper foundation, I definitely missed a few fundamentals. He attended Susan Garrett's Skills Camp (agility) and two days of a Judie Howard (obedience) seminar with excellent results as a youngster but due to my work and training schedules we didn't always get the key to "putting it all together." We had a long way to go given our start, but I was so excited about the promise of this young dog that it kept me motivated to work through our training challenges. Live and learn!
Although he took a while to learn to avoid inviting off-course tunnels, we finally started to click as an agility team when he was close to turning 5. After playing in the novice classes for a while he earned his AD in January 07 and then his AAD that October. Standard was originally his toughest class, but that has been handily replaced by Gamblers. What's funny is that although the distance challenges can be a bit overwhelming, due to strategic course navigation he has occasionally been the top point earner in Gamblers or FAST (most notably at the December 2007 Bay Team DAM event where he won the 22" Team Gamblers class or the Dec 2009 TRACs AKC where he won one day of Ex B 20" FAST). He easily racked up the Masters Jumpers and Snooker Qs, although Super Qs eluded us for some time until we figured it out in 2009.
Trek made his obedience debut in March 2008. He earned his ASCA CD in 3 straight attempts with a 195 average and two first places. His scores improved each time he went into the ring and by the 3rd leg we earned a 196 and overall High in Trial! He enjoys the game and has a natural watch; he heels beautifully as long as I cue him correctly. He competed in the ASCA (R) Novice Obedience Finals in Las Vegas in 2008, and although he had many nice moments, he also chose to show me THEN that he was confused about the Heel Off Lead where he came to Front on the Halts. Darn that Rally training! Anyway, he had a very nice performance and ended up 5th overall in the Finals. The competition was so tight that over 400 possible points (2 rounds of Novice), only 5 points separated First/Finals Champion (including a run-off) from last. We were thrilled to be in that field!
When we have time we will continue obedience lessons and have already started training for Open. He still stresses a bit on the stays (and don't even talk to me about my bad agility startlines ... I know it's a training issue) but once we iron that out I think he will be a contender in Open for his CDX.
Trek is a wonderful companion and has the goofiest, friendliest temperament he just makes you laugh ... unless you are wearing white when you greet him. He gets along with everyone, no matter what the species, and is assured that he can woo even the most reluctant of ladies to play with him. In some ways he reminds me of Tom Hanks' character in the movie "Big" -- he's really just a kid in that big boy body. I have to thank Kenny and Marilee, again and again!, for assuring me that that little black boy that I loved in those pics was truly the right one for me.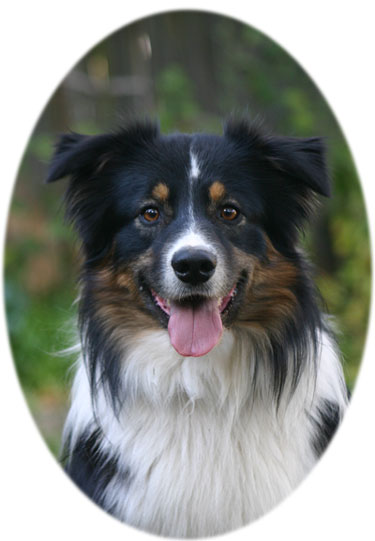 Trek at 22 mos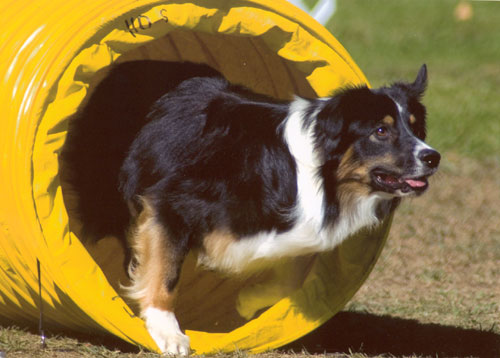 Photo by Doghouse Arts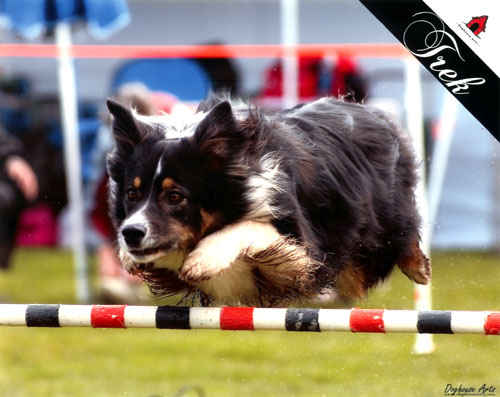 Photo by Doghouse Arts
Bay Team CPE trial (aka mudfest) March 2006
See more pictures of Trek (at 14.5 mos)
See more pictures and videos of Trek on my Smugmug site